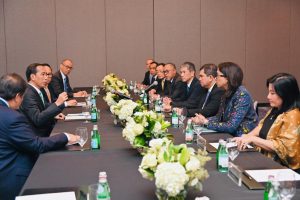 President Joko "Jokowi" Widodo Friday (17/11) met with CEO of global mining company Vale Base Metal, Deshnee Naidoo at Four Seasons Hotel, San Francisco, the United States.
During the meeting, President Jokowi expressed his appreciation for the divestment of an approximate 14 percent of share in PT Vale Indonesia to state-owned mining holding company MIND ID.
"Through the divestment, MIND ID will become the largest shareholder of Vale. Therefore, MIND ID and Vale Canada can together control the operation of Vale," the President said.
The Head of State also expressed appreciation to Vale for supporting downstream efforts in Indonesia by establishing partnership with Ford and Zhejiang Huayou in developing smelter and refinery for Electric Vehicles battery in Pomalaa Block, Southeast Sulawesi province.
"Indonesia also lauds the commitment of Vale to have a partnership with Indonesia and also its stance to support Indonesia to get IRA [Inflation Reduction Act] Incentives from the USA," he added.
The President also expressed hope that Vale can enhance its support to clean energy transition in Indonesia which emphasizes aspects of environment, social, and governance (ESG).
"Thank you for Vale's commitment to implementing ESG principles, including preserving biodiversity through the development of the Kehati Park [Biodiversity Park] in South Sulawesi, which I inaugurated at the end of March," he remarked.
During the meeting, President Jokowi also witnessed the signing of a master agreement between MIND ID and Vale Canada and Sumitomo Metal Mining Co. Ltd regarding the divestment of PT Vale Indonesia's share. (BPMI SETPRES/AIT) (RAS/EP)
The post President Jokowi Welcomes Vale's Divestment appeared first on Sekretariat Kabinet Republik Indonesia.